By Hannah Close on SwimSwam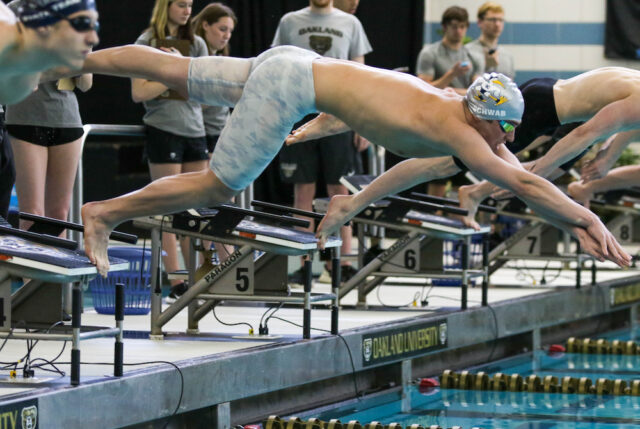 2023 MHSAA Boys Division 3 State Championships 
March 10-11

Oakland University

SCY (25 yards)
Cranbrook Kingswood took home the MHSAA Boys Division 3 Championship last weekend, March 10-11, in Rochester, MI. A giant leap from last year's 6th place finish, Cranbrook more than doubled their score from last year, from 124 to 271. The D3 circuit is one of the four championship divisions in Michigan and comprises the state's smallest high schools.
Cranbrook's Ethan Schwab played an instrumental role in his team's title and was the only swimmer to win both of his individual events. A senior for Cranbrook and future Michigan University swimmer, Schwab won the 100 breast and 200 IM, shattering two Division 3 records in the process. 
In an interview with Detroit Free Press, Schwab detailed how his approach was different this year, resulting in faster times and two wins, "Last year I came in as the top seed in both of my events and had a disappointing state meet, didn't quite do what I wanted to." He said, "I learned some things over the past year about myself and how just to mentally approach everything, and that was really the difference. If I can get past the training, if I can get better mentally — that's the key." 
Schwab came in second last year to current ASU swimmer Andrew Dobrzanski in the 100 breaststroke. Dobrzanski was also the previous 100 br D3 record holder, making Schwab's new record that much sweeter. Both Schwab's morning swim, a 54.04, and night swim, a 54.31, were under the previous record, a 54.45.
Schwab's 1:48.23 took down the previous record of 1:49.58, a time swum by Ian Miskelley in 2018. A stand-out swimmer, Miskelley swam for Holland Christian and was a 4-time state champion. He later went on to swim at Michigan University, where he tragically lost a battle with life-long mental illness in 2020.
Not only were Schwab's 40 individual points crucial in Cranbrook's 1st place finish this year, but even more so were his contributions to Cranbrook's 1st place 4×50 medley and 2nd place 4×100 free relays. Schwab teamed up with AJ Farner, Sean Lu, and Joseph Wiater on the medley relay to post a 1:33.06, just 5 hundreths short of the Division 3 record. Schwab's breaststroke split, a 24.39, was faster than all but two teams' finals backstroke splits.
The 4×50 medley relay was the first event of the meet that helped set the tone for Cranbrook's victory over East Grand Rapids. Cranbrook's A relay team edged out East Grand Rapids A team by only one hundredth of a second. Both teams dropped a whopping 3 seconds off their seed time. 
The next event that followed was another upset for East Grand Rapids. London Rising of Adrian High School took 1st place in the 200 free, beating East Grand Rapids' top scorer and junior, Carter Kegle. Only a freshman, Rising dropped over 1.5 seconds from his seed time to beat Kegle, the top seed from the morning. 
Rising was Adrian High's top scorer, helping his team launch themselves all the way from 28th last year to 4th. Rising took 3rd in the 100 fly with a 51.40 and, with the help of his three teammates, took a 3rd place finish in the 4×50 and 5th in the 4×100 free relays. Rising's smoking fast 20.59 split on the 4×50 free relay was the second fastest split in the field and the only other split under 21 seconds.
Kegle, the reigning champion in the 500 free took gold again this year, winning handily by 5 seconds with a 4:33.36. Along with Kegle's speedy 1:41.29 in the 200 free, he showed his range with a 45.08 anchor leg for the champion 4×100 free relay team of Micah Spitzley, Ted Turnage, Logan McCahill and Kegle.
The 50 free crown went to Ben Sytsma, a junior from Grand Rapids Christian School with a time of 20.57. Systma edged out the top seed, junior Alec Lampen of Manistee High School, who later captured 1st in the 100 back with a 50.30. 
Systma also anchored his team's 4×50 free relay with a blistering 19.84, chasing the Cranbrook champion team of Robbie Sarle, Christos Tzoumakas, Wiater and Will Farner. Though Systma made up 1.6 seconds of ground, the Grand Rapids relay was still 9 hundreths short of gold.
Another first-year to capture 1st place in an event was Otsego High School's Liam Smith with a time of 49.75 in the 100 fly, beating the field by at least a second. Smith also swam the 200 IM and took 3rd.
A senior from Fremont High School, Matheus Garcia, took the 100 free gold in a 44.75, edging out the 50 free champion, Sytsma by two tenths.
Team Places and Scores
The defending 2022 champions, East Grand Rapids, were runner-up this year, and the 2022 runner-up, Holland Christian, took 3rd place this year. The 2022 3rd place finisher, Spring Lake High School, plummeted to 17th this year, scoring nearly 150 fewer points due to several high-scoring swimmers graduating last year.
2023 Top-8 Team Scores
Cranbrook Kingswood – 271

East Grand Rapids -259

Holland Christian – 161

Adrian – 135

Grand Rapids Christian – 110

Holland – 107

Manistee – 106

Dundee – 105
2022 Top-8 Team Scores
East Grand Rapids – 272

Holland Christian – 214

Spring Lake – 191

Grand Rapids Christian – 187

Pinckney – 154

Cranbrook Kingswood – 124

Hamilton – 110

Manistee – 98
SwimSwam: Ethan Schwab Leads Cranbrook Kingswood to an MHSAA Boys Division 3 Championship Title