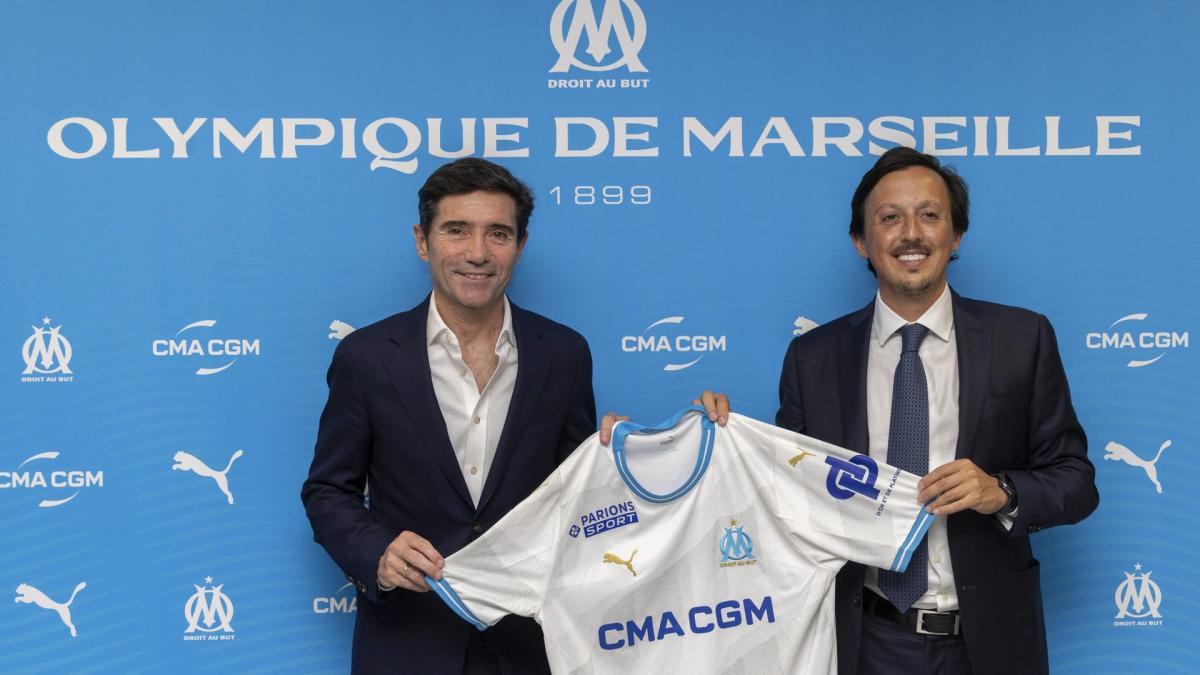 What's next after this ad
In Marseille, all summer it's the same tune, or almost. The sun is beating down, the recruits are waiting and a new era, this time with Marcelino, begins. But that's not the only news. Indeed, last November, we learned that Olympique de Marseille was going to have a new sponsor.
" The CMA-CGM Group and Olympique de Marseille are pleased to announce that the CMA-CGM Group will be the next main partner of Olympique de Marseille. The CMA-CGM Group, main partner of OM from the 2023-2024 season. The CMA-CGM Group, a global player in maritime, land, air and logistics solutions, becomes the main partner of Olympique de Marseille from July 1, 2023 for two seasons. ", could we read on the press release.
To read
Mercato OM: Pablo Longoria is in a hurry
CMA-CGM is the city's main company and one of the world leaders in maritime logistics. It was necessary to wait until July 1, because the former sponsor, Cazoo, ended his contract. Inevitably, the rumors of sale to Rodolphe Saadé, boss of the CMA-CGM, have flourished. But Tanya, his sister, said again recently that it was a definite no.
What's next after this ad
" This is a very strong message for Marseille »
However, the company will be well displayed on the front of OM jerseys, but also on campus. It's a much more global agreement than a jersey sponsor, it has become a global sponsor. A desire for Rodolphe Saadé to get involved in the club and for OM to have one more foot in the territory. Something that delights Pablo Longoria: " we are very happy with this partnership. Because we are talking about an important institution in the city and in the local economic fabric. We said that we wanted to do an important project for Marseille, important for the territory. Having the support of CMA-CGM and that they believe in what we do on a daily basis in the changes that we believe are good for the club is important for the club. It is a support that we consider very important, to find by our side important people in the economy of the territory. This is very good news and we are very happy to have CMA-CGM by our side because it's a partnership, but it also sends a strong message at the local level. We are going to work a lot for the development of activity in the city. We didn't just talk about the world of sport, but also about the world of education in Marseille, but also about all the developments that can be made in Marseille around the different foundations. It is very interesting for us. Cazoo, of course, got out of sponsorship, as they communicated, we saw it as an opportunity to look for people who believe in the project, in what we do on a daily basis. With CMA-CGM, we found not only a sponsor, but a partner to be able to develop real projects around football. This is something we are very proud to be able to have with us CMA-CGM and it is a strong message for Marseille ".
The foundations ahead
The most important link between the two should also be found in charitable foundations: " the CMA-CGM Foundation and OM Foundation will also work together to support social and solidarity initiatives linked to education and aimed at young people. Together, CMA-CGM and Olympique de Marseille are initiating a partnership built on passion, with Marseille at its heart ".
What's next after this ad
If Pablo Longoria is therefore very happy, it is also the case of the CMA-CGM whose imposing tower is located in Marseille. At the beginning of July, they put the small dishes in the big ones. Communication on social networks with one of their planes and one of their ships with this inscription " Go Om ". But that's not all.
After having teased, with their employees, they first arranged the company. Mini football pitch at the entrance in front of elevators dressed in blue with the OM logo and an inscription " All together with OM ". In these three important goods lifts, the home and away shirts with " CMA-CGM main partner ".
What's next after this ad
Rongier, Boli, Di Meco and Papin passing through
But it didn't stop there. To celebrate and announce the partnership, the CMA-CGM tower welcomed Pedro Iriondo, general manager in charge of OM's development and strategy, Basile Boli, Eric Di Meco and Jean-Pierre Papin. The former players also took the opportunity to take a photo with Tanya Saadé. Valentin Rongier also passed a head and took a few small photos with the old employees. The latter were also put to the test since they deployed a tifo in the auditorium in the presence of Yannick Maspimby, key account executive at Puma and Jenny Perret, the midfielder who extended her lease to OM last May. On the third floor terrace, which can be seen from the outside, at least one giant table football had been installed.
Even if the Saadé family does not plan to buy OM, it is certain that both parties and in particular the shipping giants are delighted with this new association. Let's hope now that the transfer window starts strong and that OM qualify for the Champions League. No doubt everyone will be even happier…
Pub. THE
update the