By Spencer Penland on SwimSwam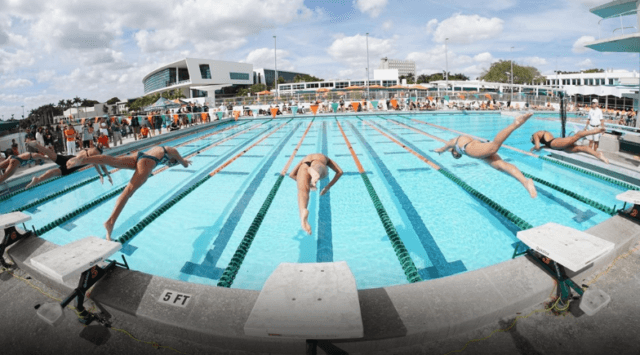 MIAMI (FL) vs HOUSTON vs FGCU (WOMEN'S DUAL)
Friday, January 13, 2023
Whitten Center Pool, Coral Gables, FL
SCY (25 yards)
TEAM SCORES
Miami (FL) def. Houston 187-108
Miami (FL) def. FGCU 225-70
Houtson def. FGCU 229.5-69.5
Miami (FL) hosted FGCU and Houston  for a women's dual last Friday, emerging victorious by large margins against both teams. Houston also beat FGCU decisively, outscoring them 229.5-69.5.
Miami's Adrianna Cera was great in the distance free events, winning the 1000 free and 500 free. In the 1000 free, Cera clocked a 10:13.89, throwing down a big negative split. She was out in 5:08.68 on the first 500, then came home in 5:05.21. Houston's Eden Humphrey was ahead of Cera at the 500, splitting 5:07.71, but didn't have the closing speed Cera did. She ended up finishing second in 10:17.21.
Cera then went on to win the 500 free in 4:59.30, again negative splitting the race. She was 2:30.28 on the first 250, then came home in 2:29.02. Miami's Aino Otava also negative split the race, finishing second with a 5:00.65.
Tara Vovk (Miami) swept the breaststroke events. In the 100 breast, Vovk swam a 1:03.77, getting out to a huge early lead with a 29.57 on the first 50. She then went on to win the 200 breast in 2:18.61, touching out Audrey McKinnon (Houston), who was second with a 2:18.84. The pair were tied at the 150, both touching in 1:44.09, then Vovk closed in 34.52 while McKinnon was 34.75.
Vovk also provided a 52.37 on Miami's 400 free relay, which won. Jane Fitzgerald (52.57), Jacey Hinton (52.29), Vovk (52.37), and Giulia Carvalho (52.09) combined for a 3:29.32.
In the 200 medley relay, Miami's Celina Kuehne (26.51), Vovk (28.58), Zorry Mason (24.86), and Hinton (23.07) teamed up to win in 1:43.02.
Giulia Carvalho was another double event winner for Miami. She first won the 50 free, swimming a 23.5. She then went on to win the 100 fly in 56.31, touching out Houston's Abbie Alvarez (56.39). Carvalho also showed her ability to do a little bit of everything, finishing fourth in the 200 breast with a 2:21.42.
Houston picked up a win in the 200 fly, where Alondra Ortiz clocked a 2:02.18. She swam a very tightly split race, going 1:00.06 on the first 100 then coming home in 1:02.12.
OTHER EVENT WINNERS
SwimSwam: Cera, Vovk, and Carvalho Help Lead Miami (FL) to Decisive Wins Over FGCU and Houston