By Retta Race on SwimSwam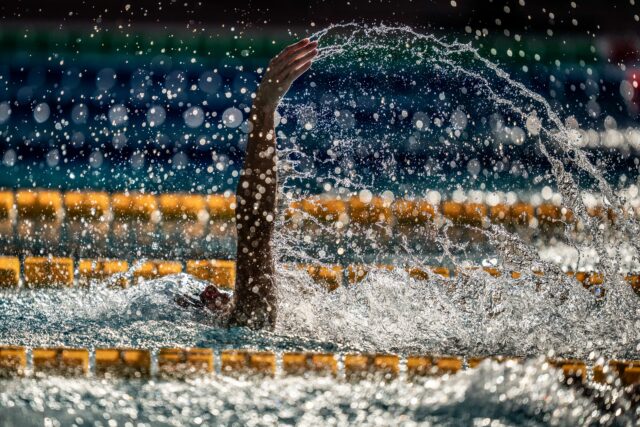 2023 WEST MIDLANDS SUMMER CHAMPIONSHIPS
Weekend 1: 29th and 30th April, 1st May; Weekend 2: 7th and 8th May
The Alan Higgs Centre, Coventry
LCM (50m)
Oliver Morgan of Great Britain broke through in a big way this past April while competing at the 2023 British Swimming Championships, reaping gold across the 50m, 100m and 200m back events.
He became the first man to complete a backstroke sweep in over a decade at the meet, earning a spot on the British roster for this summer's World Championships as a result of his performances.
However, the 19-year-old recently lowered his best-ever 100m backstroke time, beating what it took the University of Birmingham budding star to make it into that Sheffield final.
Morgan raced on his squad's men's 4x100m medley relay at the 2023 West Midlands Summer Championships which just completed last night in Coventry, England.
Leading off in backstroke, Morgan registered a time of 53.71, a mark which shaved .06 off his best-ever 53.77 produced in the heats at the British Swimming Championships. Morgan ultimately still took the title there at Ponds Forge, hitting a final result of 53.92. That gave him the national title ahead of the likes of Olympic medalist Luke Greenbank.
Morgan opened his 53.77 and his more recent 53.71 swims in identical front halves of 25.84, but his April outing closed in 27.93 while his Midlands last 50m checked in at 27.87.
Even with shaving off just .06, Morgan frog-hops over Loughborough's Joe Litchfield to now rank as the 4th fastest British 100m backstroke of all time.
All-Time British Men's LCM 100 Backstroke Performers
Liam Tancock – 52.73, 2009
Christopher Walker-Hebborn – 52.88, 2015
Luke Greenbank – 53.34, 2021
Oliver Morgan – 53.71, 2023
Joe Litchfield – 53.75, 2021
Morgan now ranks 19th in the world on the season with Fukuoka on the horizon.
SwimSwam: Budding British Backstroker Oliver Morgan Hits PB At West Midlands