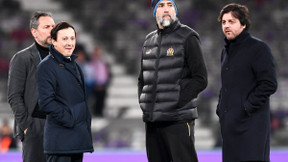 While OM are 2nd in Ligue 1 and ideally placed to compete in the Champions League once again, the Olympian club's project could be called into question. Indeed, Javier Ribalta, the director of football, who arrived last year, would already be in the sights of Juventus who would like to repatriate him.
Almost a year ago, after a grueling season on all fronts, Pablo Longoria had decided to surround himself with an old acquaintance. To help him at the sporting level, the president of theOM called on Javier Ribalta whom he appointed director of football. A logical choice for Longoria who had already worked with him on the Juventus. From the outset, the two masters of the transfer window made their network speak and theOM has strengthened considerably.
Juventus wants to repatriate Ribalta
It remains to be seen how long the adventure of Javier Ribalta at theOM. According to information from Corriere della Serathe director of Spanish football would be tracked by the Juventus who is looking for a new leader for the sportsman. Cristiano Giuntolithe sports director of Naples, is the priority. But in case of failure, the Old lady will surely not hesitate to try his luck with Javier Ribalta, an elder of the house. A new threat to theOM since Igor Tudor, the Marseille coach, is also courted by the juve.
Tensions at OM, Guendouzi attacked https://t.co/R3g7AKmj5Q pic.twitter.com/69DKMkH5VV

— 24hfootnews (@24hfootnews) April 28, 2023
He is very invested in OM
But according to his recent statements, Javier Ribalta seems very invested at OM. In other words, it would seem strange that he decides to pack up after a short season. " The club must always control the message sent. The line of your project must be clear, that's why the club must be at the top. Then, the coach is the most important: we must support him and allow him to express himself as he sees fit. Finally, the players are of course very important, but they should never be more important than the team, the coach or the club. We want to work as a group to ensure respect for the institution ", he confided in March. Stability, that's all supporters ask forOM !