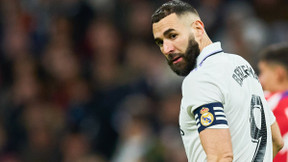 As his contract expires next June, Karim Benzema is set to extend for a year with Real Madrid. Arrived in 2009 within the Madrid club, the Ballon d'Or 2022 has always had a perfectly exemplary attitude towards the Madrid management. Financially speaking, the former Lyonnais has never been excessive in his demands, which explains his non-presence in the top 5 highest paid players in La Liga.
Now 35, Karim Benzema had a stratospheric 2022. Elected Ballon d'Or, the winner of the last edition of the Champions League is having a slightly more complicated season this year, the real Madrid being left behind in the league. However, KB9 once again stood out against liverpool in the European Cup, scoring twice at Anfield in the first leg on February 21. Despite his captaincy and his performances, the native of Bron is not the highest paid player in the Real. A situation that can be explained by many factors.
Benzema currently earns €16.5m a year
As the newspaper reveals the team, Karim Benzema currently earns an annual salary of €16.5 million, which is equivalent to the sum of €1.375 million per month. An extraordinary amount therefore, but yet far from that of certain European stars, like Kylian Mbappé and his 6 M€ monthly. But even within a Spanish championship in which he is one of the figureheads, the French striker is not the best paid. Indeed, the latter is quite far from the first 3 salaries of La Liga, and from Sergio Busquets 3rd with €1.91 million monthly, but also Robert Lewandowski (€2.17 million), as well asEden Hazard (€2.25 million).
PSG: Messi challenges Qatar, it's going to end badly https://t.co/VYGy8jwZw3 pic.twitter.com/NUEZcXLl3W

— 24hfootnews (@24hfootnews) March 30, 2023
A policy specific to Real Madrid
If the great rival, the FC Barcelonahad given huge salaries to some players during the presidency of Josep Bartomeuthis is not the case for real Madrid. THE Meringues have a very clear policy concerning the contracts of players over thirty: they are not the best paid, and are only extended for one year.
Benzema: incredible revelation about his salary 24hfootnews.