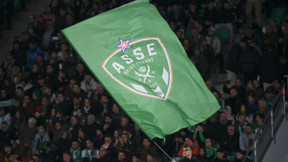 While the Ligue 2 season is now over, ASSE can now focus on the next exercise with, of course, the objective of moving up to Ligue 1. For this, it should move to the Greens during the summer transfer window. So what should we expect from ASSE? Loïc Perrin looked into the subject and mentioned some big issues.
In the red zone in the first part of the season, theASSE raised the bar well afterwards. The Greens will therefore continue in Ligue 2, but the objective will always be the same: to move up to Ligue 1. The question is then to know what will be the workforce available to Laurent Batlles for next season. As the opening of the summer transfer window approaches, many questions exist in Forez. Loic Perrinsports coordinator of theASSEtook stock of several issues.
Disaster at ASSE, he will leave! https://t.co/MzPNql4zKu pic.twitter.com/cyyHjm41Cx

— 24hfootnews (@24hfootnews) June 2, 2023
"The problem is that he has trouble making a decision"
Reported by In green and against all, Loic Perrin first mentioned the case of Jean-Philippe Krasso, serial scorer of theASSE this season. " Jean-Philippe Krasso has been the next priority for a while now. The problem is that he has trouble making a decision. It is also his right, he is waiting for other proposals, which I can understand with the good season. We always hope to convince him even if there is perhaps little chance "Explained the Saint-Etienne leader.
"We project ourselves with them"
It was then discussed that Niels Nkounkou And Mathieu Cafarodefinitively purchased by theASSE. But while a departure could be possible for them this summer, Perrin told : " We decided to exercise the options of Niels Nkounkou and Mathieu Cafaro because clearly, the objective will be to move up next season to Ligue 1. They have given us satisfaction. We plan with them. (…) Mathieu Cafaro publicly announced that he was planning to join us. I spoke about it with Niels (Nkounkou), even if projects will perhaps present themselves to him this summer. We met him with Laurent Batlles, we told him that we wanted him to stay. Climbing with Saint-Étienne is a great project for him. He is aware of it I think ".
" Players may ask to leave. We have already met them and some have desires elsewhere because they play little. It will be up to us to replace them. We will have enough to build a team to aim for the climb ", then concluded Loic Perrin. To see now what theASSE on the transfer window.
ASSE is loose on the big files of the transfer window 24hfootnews.