Amazon's pre-order DVD poster for Fastlane has both Brock Lesnar and The Undertaker in it along with Goldberg. Both Lesnar and Taker have not been advertised for the show and have only been rumoured to make an appearance in some capacity.
While it may not mean anything, it surely is interesting considering the rumours going around. Check out the Amazon's post: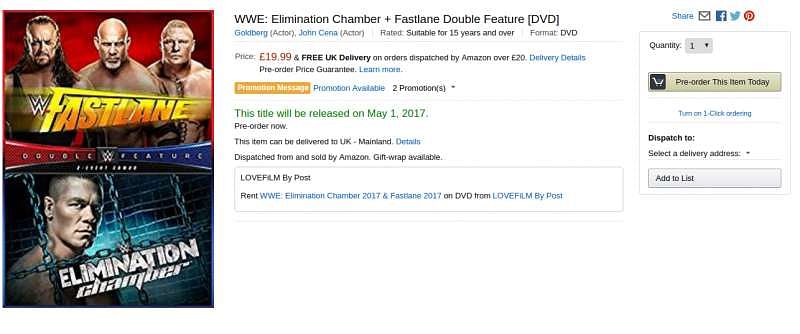 Goldberg is all set to face Kevin Owens for the WWE Universal Championship, and as expected, is heavily favoured to win the title according to betting odds and pundits.
Lesnar is rumoured to interfere in the main event while The Undertaker is said to cost Roman Reigns his match against Braun Strowman, effectively setting up the speculated match against the Big Dog at WrestleMania 33.
Are Undertaker and Lesnar all set to appear at the final pit stop before the show of shows? We'll just have to wait and watch.
While Lesnar interfering in the title match would complicate things, Taker spoiling Reigns' party makes sense. Reigns would not look weak if he loses to Strowman in such a fashion and could head into WrestleMania looking strong (and with a lot of heat).