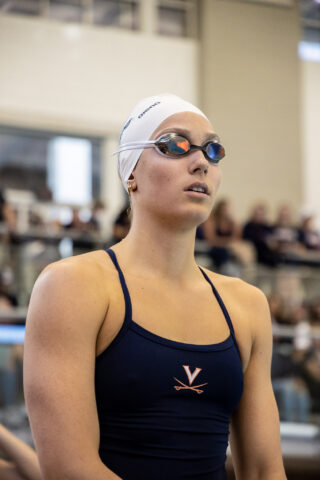 UVA vs. UNC vs. NC State (Women's Recap)
January 20-21, 2023
Koury Natatorium, Chapel Hill, North Carolina
SCY (25 Yards)
Live Results under "UVA v NCST v UNC Tri Meet" on MeetMobile
On Friday, the first half of the tri-meet between UVA, NC State, and UNC was contested, taking place at UNC. Tomorrow, all three teams will travel to NC State for the second portion of the meet. The biggest headliner on the women's side of day one was Gretchen Walsh's nation-leading 100 back, which you can read more about here, but there was plenty of other fast swimming going on at the Koury Natatorium.
Scoring doesn't seem to be available for this meet on MeetMobile, although we will try to obtain a final score for this meet when it concludes tomorrow.
There was a big showing in the 400 IM, where UVA teammates Ella Nelson and Alex Walsh went times of 4:03.66 and 4:03.79 respectively. Nelson was just 0.05 seconds off of her season-best of 4:03.61 set at the Tennessee Invite, a time that currently stands as the top time in the NCAA for the 2022-23 season. Walsh, who is the defending NCAA champion in the 400 IM, swam the event for the first time on Friday and clocked the third-fastest performance of the season (behind Nelson's two swims). Nelson's personal best stands at a 4:02.11 from 2022 ACCs, while Walsh clocked a best time of 3:57.25 to win NCAAs.
What's interesting about this race between Nelson and Walsh is that Walsh was over a second faster than Nelson on fly, back, and free. However, Nelson out split Walsh by nearly four seconds on the breaststroke leg, which was enough for her to maintain the lead and touch first. Nelson and Walsh are both strong 200 breaststrokers, but considering that Walsh's 200 breast personal best (2:03.02) is over a second faster than Nelson's (2:04.35), it's surprising that Nelson had such a big advantage over Walsh on breast.
Splits Comparison, Nelson vs. Walsh:
| | | |
| --- | --- | --- |
| | Ella Nelson | Alex Walsh |
| Fly | 56.45 | 55.44 |
| Back | 1:03.60 | 1:02.15 |
| Breast | 1:06.95 | 1:10.74 |
| Free | 56.66 | 55.46 |
| Total | 4:03.66 | 4:03.79 |
Walsh also took the 200 fly in a time of 1:55.95, which is just a few tenths slower than her season-best of 1:55.64 from the UVA-Texas dual meet. She won this race by over a second, as NC State's Abby Arens finished second with a 1:57.34. Meanwhile, Nelson won the 200 breast by over four seconds, swimming a 2:08.20. She was just over a second slower than her season-best of 2:07.06 set at midseason invites.
In addition to swimming the NCAA's #1 time in the 100 back, Gretchen Walsh also won the 50 free in a time of 21.43, keeping her individual undefeated streak alive for another day. If she wins the 100 fly tomorrow (which appears to be the only individual event she is entered in), she will have completed a perfect pre-championship season. Walsh's 21.43 is her ninth sub-22 second 50 free of the 2022-23 season—a remarkable display of consistency. By comparison, the swimmer with the next-highest amount of sub-22 swims is Kate Douglass, who has five.
Douglass clocked her fifth sub-22 swim against Walsh on Friday, finishing second to her in a time of 21.86. She was just 0.24 seconds off of her dual meet best time of 21.64 set last week.
In the women's 200 back, there was an extremely close race between NC State's Emma Muzzy and Kennedy Noble, as well as UVA's Reilly Tiltmann. The three swimmers finished just 0.12 seconds apart, as Muzzy was first in 1:54.54, Tiltmann was second in 1:54.63, and Noble was third in 1:54.66. Muzzy and Noble both set dual meet season-bests in this race, while Tiltmann set an overall season best, as she scratched out of the 200 back at midseason invites and had only been as fast as 1:55.16 this season from a dual meet.
The race between Muzzy, Noble, and Tiltmann is a preview of what's to come at ACCs, as Tiltmann and Muzzy are the defending ACC Champion and runner-up respectively, while Noble is one of the fastest freshman 200 backstrokers in the country.
In the 500 free, UVA went 1-2, as Claire Tuggle won in a time of 4:46.12 and Maddie Donohoe was second with a 4:48.45. Tuggle, who missed midseason invites, swam a season-best in this race, beating the 4:46.27 she clocked agains Texas.
UVA won both day one relays, as Gretchen Walsh (50.08), Alex Walsh (59.27), Douglass (50.63), and Maxine Parker (48.63) took the 400 medley relay in a time of 3:28.63 (fastest than their midseasons time of 3:29.16) and beat NC State's Noble (52.21), Arens (59.66), Alons (51.69), and Berkoff (48.38) by over three seconds. The decision to put Arens on breast was a surprising one, considering that NC State has two breaststroke specialists in Heather McCausland (58.16 PB) and Andrea Podmanikova (57.90 PB). That being said, Podmanikova was on the 'B' relay for NC State, splitting 1:01.24.
Arens is a strong breaststroker, having placed 5th in the 200 breast at 2021 ACCs last year. However, she barely swam breast last season, instead opting for the 100 fly, 200 fly, and 200 IM at NCAAs and ACCs.
In the 200 free relay, Gretchen Walsh (21.52), Parker (22.08), Lexi Cuomo (22.38), and Douglass (21.48) won in a time of 1:27.46, once again beating NC State by over two seconds. NC State's Berkoff (22.93), Alons (22.17), Annabel Crush (22.77), and Arens (21.96) combined for a time of 1:29.83 to finish second, while UNC's Grace Countie (22.97), Olivia Nel (22.37), Greer Pattison (22.48), and Skyler Smith (22.68) finished third in 1:30.50. The same four UNC swimmers put up a 1:26.99 at the Tennessee Invite, making them ranked third in the nation for this relay.
Aranza Vazquez was arguably UNC's best performer today, winning the 3-meter dive with 409.60 points. Finishing second to her was teammate Emily Grund, who scored 379.10 points. Grund missed the entire 2021-22 season due to a cancer diagnosis, but was declared cancer free last May and returned to competition in fall 2022.
SwimSwam: Alex Walsh and Ella Nelson Clock 4:03 400 IMs On Day One Of UVA-UNC-NC State Tri-Meet