By Spencer Penland on SwimSwam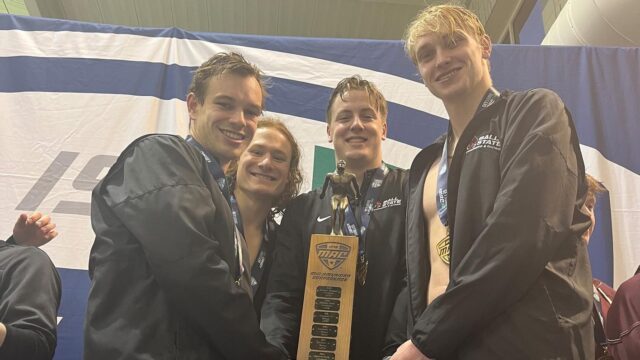 2023 MAC SWIMMING & DIVING CHAMPIONSHIPS 
Wednesday, March 1 – Saturday, March 4, 2023
Oxford, OH
Defending Champions
Live Results
Following the first day of the 2023 Men's MAC Swimming & Diving Championships, Ball State leads the standings. Southern Illinois would be in first, however a DQ in the 200 medley relay cost them, and the Salukis find themselves in sixth at the end of the first day of the meet.
SIU touched first in the 200 medley, swimming a 1:25.59, but was disqualified due to an early take-off on the third leg. There was still a pair of highly notable splits on that Saluki relay. Freshman Ruard van Renen, who swam a 44.89 100 back time trial earlier in the day, led his team off with a sizzling 21.03 back split, giving SIU a big lead. They also got a massive anchor leg out of Donat Csuvarszki, who came roaring home in 18.99.
Ball State won the race with a 1:26.35. Ethan Pheifer (22.75), Joey Garberick (23.10), Bryce Handshoe (21.20), and Owen Chaye (19.30) teamed up to get the job done. Chaye dove in trailing Miami (OH) anchor Mason Miller by about half a second, but was able to catch him as he sped towards the finish.
SIU came back with a vengeance in the 800 free relay, winning in 6:29.51. Selim Hassan (1:38.11), Alex Cimera (1:37.78), Adam Cernak (1:37.62), and William Chavez (1:36.00) combined to win the race.
Notably, Evansville saw three program records fall on the first day of the meet, which is particularly impressive since there were only two events. The Aces came in fourth in the 200 medley relay with a 1:28.41, setting a new school record. They then put up a fifth-place finish in the 800 free with a 6:39.32, marking another school record. That relay was led off by Riccardo di Domenico in 1:36.59, which also established a new program record in the 200 free. On top of that, Domenico's split was one of the fastest in the field last night, despite coming on a lead-off leg.
The fastest split in the 800 free relay came from Missouri State's Pawel Krawczyk, who split 1:35.99 on the third leg of their relay.
TEAM STANDINGS THROUGH WEDNESDAY
Ball State – 70
Missouri State/Miami (OH) – 66
–
Evansville – 58
UIC – 54
Southern Illinois – 40
Valparaiso – 24
SwimSwam: After a Southern Illinois DQ, Ball State Leads 2023 Men's MAC Champs Through First Day