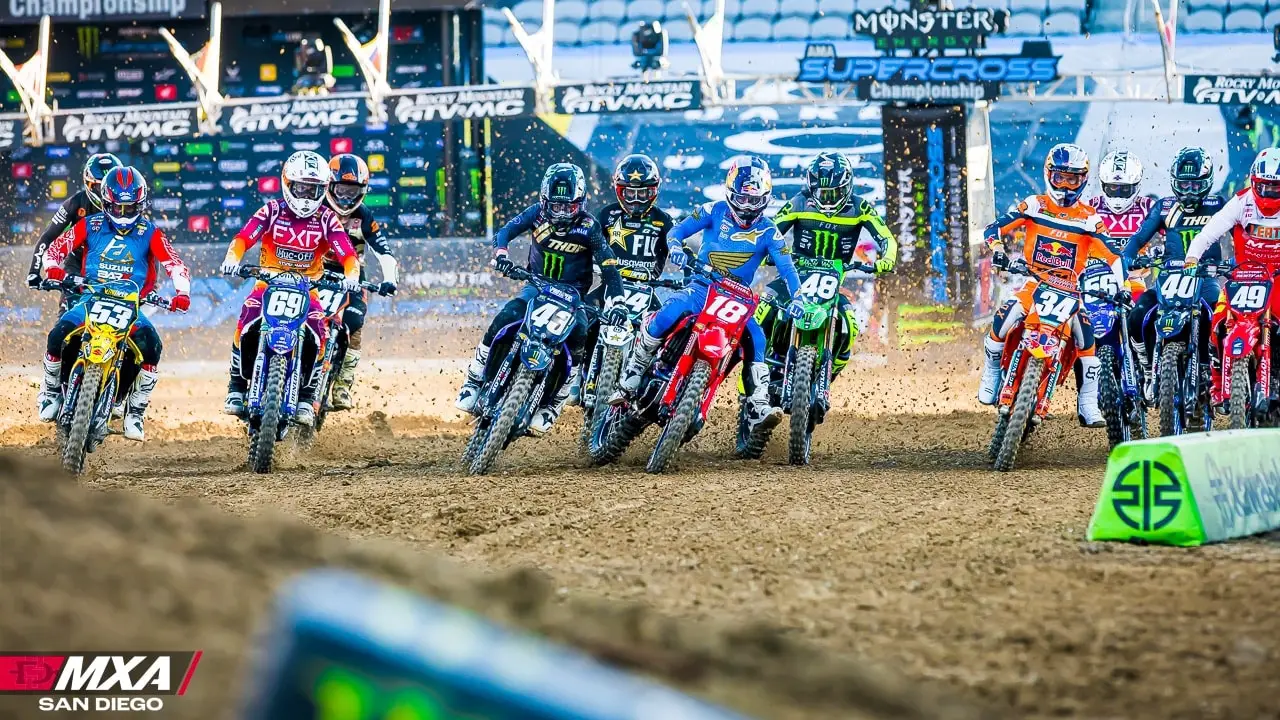 250 RACE RESULTS // 2023 SAN DIEGO SUPERCROSS
The San Diego Supercross is underway and you guessed it, Jett Lawrence was the quickest rider in qualifying. However, Jett's day wasn't without a little controversy. He crashed in the second qualifying and it was a pretty funny dismount, watch the video here. RJ Hampshire was second fastest no his Husqvarna headed into the night show. The SnapDragon stadium is brand new to San Diego and it's working great for everyone who made it here on time, but for those who showed up just before the night show, the parking was full and they've had to resort to other parking lots at Costco nearby or even in neighborhoods walking distance from the stadium.
Scroll below to see the 250 Heat race, LCQ and Main Event results, presented by Hoosier tires, as they come in from the SD SX.
---
250 HEAT RACE 1 RESULTS
RJ Hampshire.
The first 250 Heat race of the night started off with Enzo Lopes out front after he got the holeshot. RJ Hampshire was close behind, but Lopes kept him at bay for the first few laps. On the first lap BarX Suzuki rider Derek Drake went down with Cameron McAdoo and another rider in the turn before the triple. A few laps in, Enzo Lopes let RJ Hampshire pass him and he snuck into second to watch RJ's lines. Unfortunately, Colby Copp, a rider out of NorCal, went down in the whoop section hard, causing a red flag to the race.
Because the race was past 3 laps complete, with less then 90-percent of it done, the race was restarted with a staggered start.
Results coming soon…
Derek Drake crashed on the first lap and walked off with an injured wrist. 
250 HEAT RACE 2 RESULTS
Coming soon… 
250 LCQ RESULTS
Coming soon… 
250 MAIN EVENT RESULTS
Coming soon… 
250 RACE RESULTS // 2023 SAN DIEGO SUPERCROSS Motocross Action Magazine.