By Anne Lepesant on SwimSwam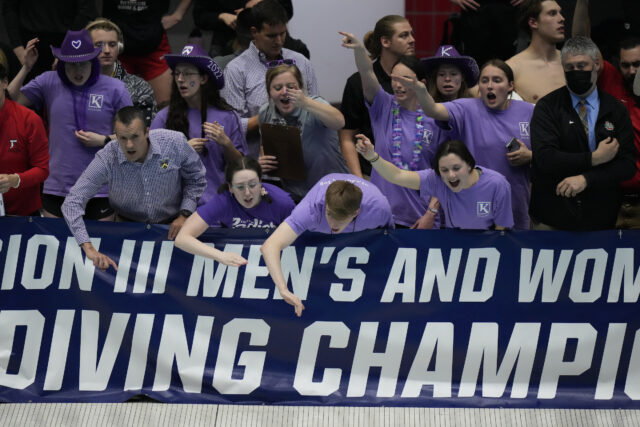 2023 NCAA Division III Women's and Men's Swimming and Diving Championships
Dates: Wednesday, March 15 – Saturday, March 18, 2023
Location: Greensboro Aquatic Center, Greensboro, NC
Times: Prelims 10:00 AM / Finals 6:00 PM
Defending Champs: Kenyon women (1x) & Emory men (1x)
Live Streaming on NCAA.com
The 2023 NCAA Division III Women's and Men's Swimming and Diving Championships will get underway on Wednesday, March 15 in Greensboro, North Carolina. After a two-year hiatus due to the coronavirus pandemic, the Kenyon women and Emory men won the 2022 titles. It was the Owls' first women's championship title since 2009 and it snapped Emory's streak at ten. It was Emory's second men's title in program history; otherwise, the title had been won by either Kenyon (34 times) or Denison (five times) every year since 1980.
Team Score Predictions – Women (no diving)
The top ten teams from the women's psych sheet, including distance events and relays but not including diving, are as follows:
Denison University – 482
Kenyon College – 402
Emory University – 351
Tufts University – 309
Williams College – 247
New York University – 238
Massachusetts Institute of Technology – 235
Pomona-Pitzer – 206
University of Chicago – 190
Hope College – 128
In the women's meet, Denison and Emory both come in with a full roster of 18 swimmers. Emory has two divers entered in the qualifying round, while Denison has one. Kenyon brings 16 swimmers; Chicago, 14 swimmers and two divers; NYU, 13 swimmers and two divers; Tufts, 13 swimmers; Johns Hopkins, 12 swimmers; Williams, 11 swimmers and one diver; MIT, 11 swimmers and three divers.
Events to Watch
500/1650 freesytle
Denison's Taryn Wisner and Kristin Cornish of Johns Hopkins were both freshmen last year when they won respective national titles in the 500 and 1650 free. The 2022 foes are top seeds in the distance free events this year. Cornish comes in with the top seed times of 4:48.37/16:29.52; Wisner is ranked second with 4:49.12/16:34.89. Denison's Tara Witkowski and Quinn Brown, Tufts' Madeleine Dunn and Claire Brennan, and Caitlin Marshall of NYU represent potential threats to Wisner's and Cornish's 1-2 finishes.
Individual Medleys
Williams sophomore Sophia Verkleeren is entered with the leading times in both the 200 IM (2:00.56) and 400 IM (4:17.24), with Claremont-Mudd-Scripps senior Augusta Lewis ranked second in the 200 (2:00.69) and third in the 400 (4:19.41). Lewis was runner-up in the 400 and took third in the 200 last year. Jordyn Wentzel, a fifth-year from St. Kate's, is also a favorite in both events. The 2022 runner-up in the 200, whose 1:57.82 was under the meet record, is seeded tenth in that event (2:02.90). Last year, she competed in both the 100 breast on Day 3, but this time around she is swimming in the 400 IM, seeded second with 4:17.50.
200 Backstroke
MIT sophomore Kate Augustyn (1:57.84), Hope sophomore Sara Kraus (1:57.94), and Verkleeren of Williams (1:57.99) are all seeded with times that are faster than their A-final performances from last year's championship. Another five swimmers come in with sub-2:00 seed times: Kaley McIntyre and Jessica Flynn of NYU, Isabel Huang of Emory, Ithaca's Sonia Mlakar, and Kenyon's Olivia Smith.
100 Breaststroke
Kenyon sophomore Jennah Fadely, the 2022 bronze medalist, is the sole entrant with a sub-1:00 time (59.98) but she'll face a strong challenge from defending champion Edenna Chen of MIT (1:01.09). 2022 A-finalists Alexandrea Gill of Pomona-Pitzer (1:01.59), Kinsey Brooks of Mary Washington (1:01.99) Christina Chen of Denison (1:02.18), and Amanda Wager of Williams (1:02.62) are all seeded in the top-8.
Team Score Predictions – Men (no diving)
The top ten teams from the men's psych sheet, including distance events and relays but not diving, are as follows:
Emory University – 412.5
Kenyon College – 371
University of Chicago – 262.3
Massachusetts Institute of Technology – 252.5
Denison University – 240
Williams College – 214
New York University – 178.5
Tufts University – 177.5
Washington University St. Louis – 169
Johns Hopkins University – 156
On the men's side, Emory tops the field with 18 swimmers and one diver entered in the meet. Denison follows with 15 swimmers and three divers; Kenyon, 12 swimmers and three divers; Williams, 12 swimmers and one diver; Chicago, 11 and two divers; Johns Hopkins, 11 swimmers; MIT, 10 swimmers and one diver; NYU, 10 swimmers; TCNJ, 10 swimmers; and WashU, 10 swimmers.
Events to Watch
500 Freestyle
2022 fourth-place finisher Pat Pema of Emory is seeded with the fastest time in the 500 free (4:22.82), which is 2.3 seconds faster than his time in finals last year. Defending champion Bryan Fitzgerald of Kenyon is seeded sixth (4:25.97). NYU senior Thomas Pritchard, third last year, and WashU junior Mason Kelber, sixth in 2022, come in second and third this time, with 4:24.70 and 4:24.71.
Individual Medleys
Kenyon senior Fitzgerald is also the defending champion in the 400 IM, and he comes in this year with the top seed time of 3:52.21. The next six entrants, Pomona-Pitzer junior Larry Yu (3:53.15), WashU sophomore Daniel Sibley (3:54.33), Emory sophomore Benjamin Thorsen, TCNJ sophomore Ryan Higgins (3:54.46), Denison sophomore Lucas Conrads (3:54.59), and Johns Hopkins freshman Matthew Hartshorn (3:54.64) could all dethrone the 2022 gold medalist.
In the 200, Denison senior Richard Kurlich (1:47.25) and Johns Hopkins senior Kyle Wu (1:47.25) are the only entrants seeded with sub-1:48s. Wu was third in last year's final, while Kurlich was 11th. The next six seeds are separated by only .33: Oliver Schalet of Williams, Chicago's Kyle Garcia, MIT's Jaden Luo, Jaeden-Hans Yburan of NYU, Chicago's Garrett Clasen, and Joseph Castagno of Johns Hopkins.
200 Butterfly
Connecticut College sophomore Justin Finkel (1:45.31) and Chicago junior Jesse Ssengonzi (1:45.32) top the entrant in the 200 fly. Ssengonzi was runner-up a year ago; Finkel placed 11th. There are new faces in the field this year, with freshmen Leo Han of NYU (1:46.33), Avery Clapp of Hopkins (1:46.55), and Matthew Walker of WashU (1:46.71) qualifying third through fifth. Claremont-Mudd-Scripps junior Frank Applebaum, the defending champion, is seeded 11th with 1:47.69.
100 Backstroke
Seniors Tanner Filion of Whitman (46.74), Nathan Berry of Bates (46.82), Liam McDonnell of John Carroll (46.95), and Adam Janicki of MIT (46.99), most of whom were A finalists a year ago, lead the field in the 100 back.
100 Breaststroke
Jacob Meyer (53.23) and Jason Hamilton (53.63) of Emory, Alexandre Grand'Pierre of Bowdoin (53.66), and Denison's Kurlich (53.93) and Elijah Venos (53.96) are all sub-54s and should make for an exciting 100 breast final.
4-Day Schedule – Finals
Wednesday, March 15, 2023
500-yard freestyle
200-yard individual medley
50-yard freestyle
3-meter diving (W)
200-yard medley relay
Thursday, March 9, 2023
200-yard freestyle relay
400-yard individual medley
100-yard butterfly
200-yard freestyle
1-meter diving (M)
400-yard medley relay
Friday, March 10, 2023
200-yard butterfly
100-yard backstroke
100-yard breaststroke
1-meter diving (W)
800-yard freestyle relay
Saturday, March 11, 2023
1650-yard freestyle
100-yard freestyle
200-yard backstroke
200-yard breaststroke
3-meter diving (M)
400-yard freestyle relay
SwimSwam: 2023 NCAA Division III Swimming & Diving Championships – Fan Guide