By Sophie Kaufman on SwimSwam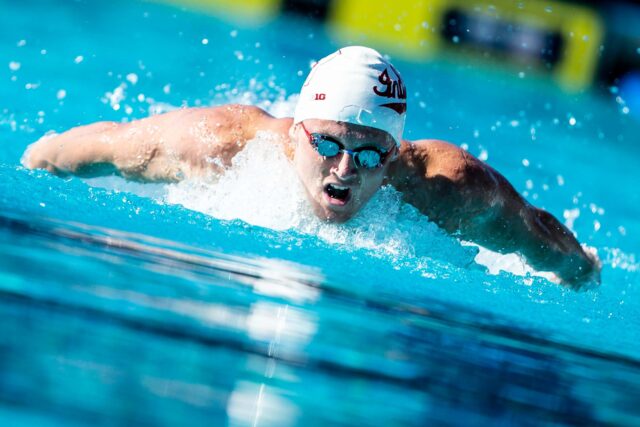 2023 MEN'S BIG TEN SWIMMING & DIVING CHAMPIONSHIPS 
Wednesday, February 22 – Saturday, February 25, 2023
Canham Natatorium, Ann Arbor, MI
Defending Champions:
It's the last prelims session of the 2023 Men's Big Ten Swimming & Diving Championships. The session features heats of the 200 backstroke, 100 freestyle, 200 breaststroke, and 200 butterfly.
Day 3's 100 backstroke champion Brendan Burns takes on the 200 back/200 fly double. Last year, Burns did this same double and walked away with two wins. Later Burns won the 200 fly at NCAAs in a new Big Ten record time of 1:38.71. He's not the top seed in the event though–Michigan's Gal Cohen Groumi is, and he's been having an excellent meet so far, winning both the 200 IM and 100 fly titles.
Burns is the top seed in the 200 backstroke and there, Jake Newmark, Jared Daigle, and Thomas Watkins will all try and set themselves up to unseat him later in finals.
Top seed in the 100 freestyle belongs to another Hoosier, Van Mathias. The fifth-year has had a strong meet so far as well, winning the 50 freestyle, and aims to ride that momentum through to finals. 2022 champion Hunter Armstrong and runner-up Sam Andreis don't return but five of the other 'A' finalists from last year are in the field, setting up for a tight race just to make the championship heat.
Minnesota's breaststroke ace Max McHugh looks to repeat as the 200 breaststroke champion. To do so, he'll have to unseat Indiana's duo of Josh Matheny and Max Reich, who are the #1 and #2 seeds. McHugh is the reigning Big Ten champion and conference record holder, so expect him to save any fireworks he may have in store for finals. Matheny and Reich will probably hold their cards in prelims as well, and will instead aim to qualify safely in order to give Indiana the best chance to hold onto their team lead over Ohio State.
200 Backstroke — Prelims
NCAA Record: 1:35.73, Ryan Murphy (CAL) – 2016 NCAA Championships
Big Ten Record: 1:37.58, Tyler Clary (MICH) — 2009 NCAA Championships
Big Ten Championship Record: 1:38.89, Eric Ress (Indiana) – 2014 Big Ten Championships
NCAA 'A' Cut: 1:39.13
2022 NCAA Invite Time: 1:40.92
Top 8:
100 Freestyle — Prelims
NCAA Record: 39.90, Caeleb Dressel (FLOR) – 2018 NCAA Championships
Big Ten Record: 40.83, Bowe Becker (Minnesota) — 2019 NCAA Championships
Big Ten Championship Record: 41.43, Blake Pieroni (Indiana) – 2018 Big Ten Championships
NCAA 'A' Cut: 41.64
2022 NCAA Invite Time: 42.34
Top 8:
200 Breaststroke — Prelims
NCAA Record: 1:47.91, Will Licon (TEX) – 2017 NCAA Championships
Big Ten Record: 1:48.76, Max McHugh (Minnesota) – 2022 NCAA Championships
Big Ten Championship Record: 1:49.45, Max McHugh (Minnesota) – 2022 Big Ten Championships
NCAA 'A' Cut: 1:51.54
2022 NCAA Invite Time: 1:53.23
Top 8:
200 Butterfly — Prelims
NCAA Record: 1:37.35, Jack Conger (TEX) – 2017 NCAA Championships
Big Ten Record: 1:38.71, Brendan Burns (Indiana) – 2022 NCAA Championships
Big Ten Championship Record: 1:39.22, Brendan Burns (Indiana) – 2021 Big Ten Championships
NCAA 'A' Cut: 1:40.20
2022 NCAA Invite Time: 1:42.42
Top 8:
SwimSwam: 2023 Men's Big Ten Swimming & Diving Championships: Day 4 Prelims Live Recap