By Retta Race on SwimSwam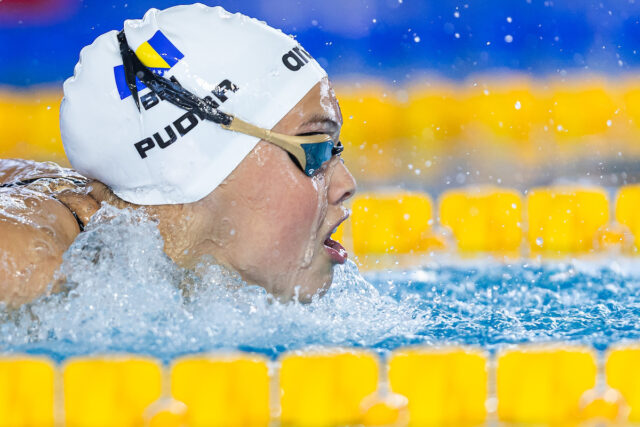 2023 EUROPEAN JUNIOR SWIMMING CHAMPIONSHIPS
Tuesday, July 4th – Sunday, July 9th
Sports and Recreational Center "Milan Gale Muškatirović", Belgrade, Serbia
Prelims at 10am local (4am EDT)/Finals at 5pm local (11am EDT)
LCM (50m)
We've finally arrived on the last day of action at the 2023 European Junior Swimming Championships in Belgrade, Serbia.
Entering tonight's competition, the nation of Italy remains atop the overall medal table, with Hungary and Denmark also in the hunt.
Denmark will have three prime individual medal chances in the boys' and girls' 50m butterfly events and the boy's 100m breast. Casper Puggaard and Martine Damborg lead their respective fly fields while Jonas Gaur will tackle the breaststroke race.
The Danish boy's 4x100m medley relay also put up a top-seeded performance in this morning's heats to set themselves up for a possible gold in that race as well.
Italy saw two boys claim slots in this evening's 100m freestyle final, with Lorenzo Ballarati and Davide Passafaro ready to rumble. Christian Bacico is also the top seed in the 100m back to give Italy a solid shot at the top prize there.
Also set to race is 17-year-old fly phenom Lana Pudar of Bosnia & Herzegovina. The teen who fired off a new European Junior Record in the 200m fly last night and a new national record in the 100m fly the night before will try to complete the trifecta with a gold in the 50m fly sprint this evening.
Turkey's Merve Tuncel will attempt to pull off a triple three-peat, gunning for girls' 400m free gold to add to her earlier 800m and 1500m free victories. The 18-year-old was the title winner across all 3 events at both the 2021 and the 2022 editions of these championships.
The boy's 400m free will represent another showdown between Bulgarian ace Petar Mitsin and his rival Vlad-Stefan Stancu of Romania. The pair dueled in the 800m free last night, with Mitsin winding up on top. Therefore, Stancu will try to exact his revenge in this shorter distance to cap off the individual events of the evening.
GIRLS 200 IM – FINAL
World Junior Record: 2:06.89, Summer McIntosh (CAN) 2023
European Junior Record: 2:11.03
European Record: 2:06.12, Katinka Hosszu (HUN0 2015
Championship Record: 2:13.03 Ilaria Cusinato (ITA) 2016
2022 European Junior Champion: Leah Schlosshan (GBR) 2:13.49
PODIUM:
GIRLS 100 BACKSTROKE – FINAL
World Junior Record: 57.57, Regan Smith (USA) 2019
European Junior Record: 59.08, Anastasia Shkurdai (BLR) 2020
European Record: 58.08, Kathleen Dawson (GBR) 2021
Championship Record: 59.62, Polina Egorova (RUS) 2017
2022 European Junior Champion: Dora Molnar (HUN) 1:00.88
PODIUM:
BOYS 100 BACKSTROKE – FINAL
World Junior Record: 52.53, Kliment Kolesnikov (RUS) 2018
European Junior Record: 52.53, Kliment Kolesnikov (RUS) 2018
European Record: 51.60, Thomas Ceccon (ITA) 2022
Championship Record: 52.91, Ksawery Masiuk (POL) 2022
2022 European Junior Champion: Ksawery Masiuk (POL) 52.91
PODIUM:
GIRLS 100 BREASTSTROKE – FINAL
World Junior Record: 1:04.35, Ruta Meilutyte (LTU) 2013
European Junior Record: 1:04.35, Ruta Meilutyte (LTU) 2013
European Record: 1:04.35, Ruta Meilutyte (LTU) 2013
Championship Record: 1:05.48, Ruta Meilutyte (LTU) 2013
2022 European Junior Champion: Enli Jevimova (EST) 1:06.50
PODIUM:
BOYS 100 FREESTYLE – FINAL
World Junior Record: 46.86, David Popovici (ROU) 2022
European Junior Record: 46.86, David Popovici (ROU) 2022
European Record: 46.86, David Popovici (ROU) 2022
Championship Record: 47.30, David Popovici (ROU) 2021
2022 European Junior Champion: David Popovici (ROU) 47.69
PODIUM:
BOYS 100 BREASTSTROKE – FINAL
World Junior Record: 59.01, Nicolo Martinenghi (ITA) 2017
European Junior Record: 59.01, Nicolo Martinenghi (ITA) 2017
European Record: 56.88, Adam Peaty (GBR) 2019
Championship Record: 59.23, Nicolo Martinenghi (ITA) 2017
2022 European Junior Champion: Volodymyr Lisovets (UKR), 1:00.96
PODIUM:
GIRLS 50 BUTTERFLY – FINAL
World Junior Record: 25.46, Rikako Ikee (JPN) 2017
European Junior Record: 25.66
European Record: 24.43, Sarah Sjostrom (SWE) 2014
Championship Record: 26.14, Daria Klepikova (RUS) 2021
2022 European Junior Champion: Lana Pudar (BIH) 26.49
PODIUM:
BOYS 50 BUTTERFLY – FINAL
World Junior Record: 22.96, Diego Ribeiro (POR) 2022
European Junior Record: 22.96, Diego Ribeiro (POR) 2022
European Record: 22.27, Andrii Govorov (UKR) 2018
Championship Record: 23.48, Noe Ponti (SUI) 2019
2022 European Junior Champion: Casper Puggaard (DEN) 23.67
PODIUM:
GIRLS 400 FREESTYLE – FINAL
World Junior Record: 3:56.08, Summer McIntosh (CAN) 2023
European Junior Record: 4:03.57, Ajna Kesely (HUN) 2018
European Record: 3:59.15, Federica Pellegrini (ITA) 2009
Championship Record: 4:05.89, Ajna Kesely (HUN) 2018
2022 European Junior Champion: Merve Tuncel (TUR) 4:07.30
PODIUM:
BOYS 400 FREESTYLE – FINAL
World Junior Record: 3:44.60, Mack Horton (AUS) 2014
European Junior Record: 3:45.93, Lorenzo Galossi (ITA) 2022
European Record: 3:40.07, Paul Biedermann (GER) 2009
Championship Record: 3:46.26, Yannick Agnel (FRA) 2010
2022 European Junior Champion: Lorenzo Galossi (ITA) 3:48.14
PODIUM:
GIRLS 4×100 MEDLEY RELAY – FINAL
World Junior Record: 3:58.38, Canada (CAN) 2017
European Junior Record: 4:00.30, Russia (RUS) 2019
European Record: 3:53.38, Russia (RUS) 2017
Championship Record: 4:01.83, Russia (RUS) 2019
2022 European Junior Champion: France (FRA) 4:05.33
PODIUM:
BOYS 4×100 MEDLEY RELAY – FINAL
World Junior Record: 3:33.19, Russia (RUS) 2019
European Junior Record: 3:33.19, Russia (RUS) 2019
European Record: 3:27.51, Great Britain (GBR) 2021
Championship Record: 3:35.24, Italy (ITA) 2017
2022 European Junior Champion: Great Britain (GBR) 3:37.44
PODIUM:
SwimSwam: 2023 European Junior Championships: Day Six Finals Live Recap