By Braden Keith on SwimSwam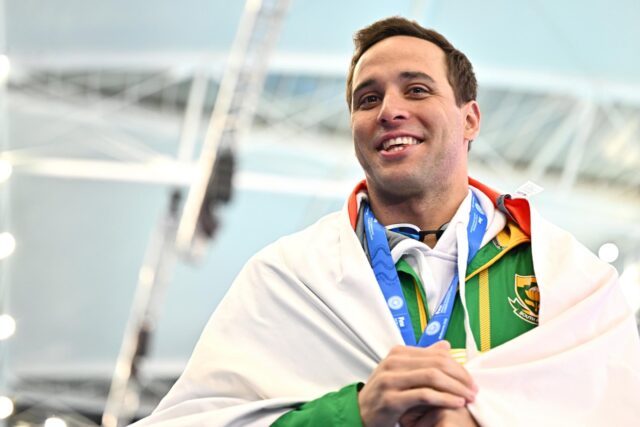 To see all of our 2022 Swammy Awards, click here.
2022 African Male Swimmer of the Year: Chad le Clos, South Africa
In a splintered year, South Africa had only one finalist at the 2022 World Aquatics Championships: Matt Sates, who was 8th in the 200 IM.
There was a tale of two seasons for the South Africans: Pieter Coetze had a big long course breakthrough, medaling in all three backstroke events at the long course Commonwealth Games. That included a gold medal in the 100 backstroke.
Then in short course, Chad le Clos looked as good in the pool as he has in an international competition in years, winning both the 100 and 200 fly titles at the World Short Course Championships (his 11th and 12th such medals). He also finished 3rd in the FINA World Cup Series.
Coetze also won a World Junior Championships gold medal in the 200 backstroke, among 5 total medals at that meet. That was the country's (and continent's) second-ever medal at the World Junior Championships.
So how do we weigh those things against each other? Both won Commonwealth Games medals, but neither ranked particularly high globally in those events (Coetze was ranked no better than 11th in a long course event last season and Le Clos no better than 23rd, in the 200 fly).
Both swam great by their own standards. Coetze broke the African Record in the 100 backstroke in long course, even as a junior, and also got African Record in short course in the 50 and 100 backstroke.
Le Clos, meanwhile, is on the opposite end of his career. At the end of long course season, it was easy to write him off as a serious contender at major international meets.
But then he changed coaches, joining Dirk Lange's training group in Germany, and at 30-years-old, swam a best time in the 200 fly in short course meters at the World Short Course Championships and broke the African Record.
And that's an event where he is a three-time World Champion in short course before his 2022 win.
In one of the strangest years of international swimming in recent memory, there aren't the same clear answers that there are in many years, even within a single country. But Le Clos' turnaround, not just swimming his best, but swimming his best when most of the world thought his bests were behind him, is a performance we can't ignore.
Chad le Clos won the first six Swammy Awards for Africa Male Swimmer of the Year, but hasn't won one since 2018. But Chad is back, and so regains his place as the best male swimmer in Africa.
Honorable Mentions
Pieter Coetze, South Africa – Coetze won a Commonwealth Games gold medal in the 100 back, silver in the 50 back, and bronze in the 200 back. He won a World Junior Championship in the 200 back, silvers in the 50 back, 100 back, and men's 400 medley relay, and a bronze medal in the mixed 400 medley relay. At only 18-years-old, and committed to join the top backstroke group in America over the last decade at Cal in 2024, Coetze is on a path to win this award many times in the future.
Matt Sates, South Africa – After winning an NCAA title in March, Sates returned home to South Africa to train with Wayne Riddin. He won a World Short Course Championship in the 200 IM, a bronze in the 400 IM, and at long course Worlds was South Africa's only finalists, finishing 8th in the 200 IM.
PAST WINNERS
SwimSwam: 2022 Swammy Awards: African Male Swimmer of the Year – Chad le Clos