By Spencer Penland on SwimSwam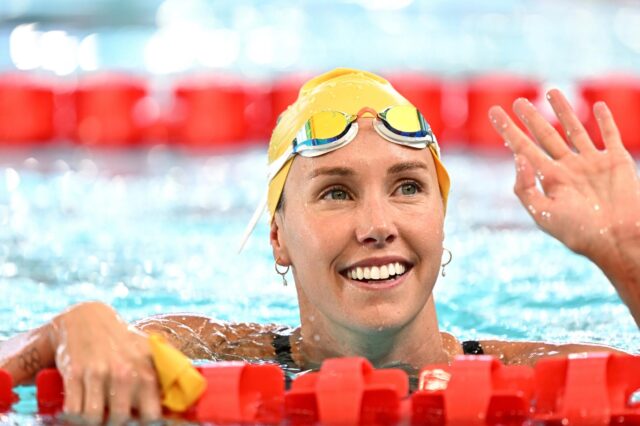 2022 FINA SHORT COURSE WORLD CHAMPIONSHIPS
Tuesday, December 13 to Sunday, December 18, 2022
Melbourne Sports and Aquatics Centre, Melbourne, Australia
SCM (25m)
Psych Sheets (Updated)
The fifth finals session of the 2022 SC World Champs in Melbourne will feature finals of the 4×50 medley relays, 400 IM, 800 free, and 50 free. There will also be semifinals of the 100 fly and 50 breast.
Jordan Crooks could make history tonight in the men's 50 free final. Crooks clocked a 20.31 in semifinals last night, leading the field by a wide margin. His semifinals time was just 0.15 seconds off the World Record in the event, so it feels like Crooks could make a run at that mark tonight.
Similarly, the race between Emma McKeon and Katarzyna Wasick in the women's 50 free final should be a thriller. Wasick has been phenomenal in the event all fall, while McKeon has already split 22.6 and 22.7 on relays at this meet.
Gregorio Paltrinieri won the men's 1500 earlier in the meet and comes into the men's 800 free as the top seed tonight.
WOMEN'S 4×50 MEDLEY RELAY
World Record: 1:42.38 – United States, 2018/Sweden, 2021
Championship Record: 1:42.38 – United States, 2018/Sweden, 2021
2021 Champion: 1:42.38 – Sweden
RESULTS:
MEN'S 4×50 MEDLEY RELAY
World Record: 1:30.14 – Italy, 2021
Championship Record: 1:30.51 – Brazil, 2014/RSF, 2021
2021 Champion: 1:30.51 – RSF
RESULTS:
MEN'S 800 FREESTYLE – TIMED FINALS
World Record: 7:23.42, Grant Hackett (AUS), 2008
Championship Record: N/A
World Junior Record: 7:36.00
RESULTS:
WOMEN'S 100 BUTTERFLY – SEMIFINALS
World Record: 54.59, Kelsi Dahlia (USA), 2021
World Junior Record: 55.39, Claire Curzan (USA), 2021
Championship Record: 54.61, Sarah Sjostrom (SWE), 2014
2021 Champion: 55.04, Maggie MacNeil (CAN)
TOP 8 QUALIFIERS:
MEN'S 100 BUTTERFLY – SEMIFINALS
World Record: 47.78, Caeleb Dressel (USA), 2020
World Junior Record: 49.53, Li Zhuhao (CHN), 2017
Championship Record: 48.08, Chad le Clos (RSA), 2016
2021 Champion: 48.87, Matteo Rivolta (ITA)
TOP 8 QUALIFIERS:
WOMEN'S 400 IM – FINALS
World Record: 4:18.94 – Mireia Belmonte (ESP), 2017
World Junior Record: 4:21.49, Summer McIntosh (CAN), 2022
Championship Record: 4:19.86, Mireia Belmonte (ESP), 2014
2021 Champion: 4:25.55, Tessa Ciepulcha (CAN)
RESULTS:
MEN'S 400 IM – FINALS
World Record: 3:54.81 – Daiya Seto (JPN), 2019
World Junior Record: 3:56.47, Ilya Borodin (RSF), 2021
Championship Record: 3:55.50, Ryan Lochte (USA), 2010
2021 Champion: 3:56.26, Daiya Seto (JPN)
RESULTS:
WOMEN'S 50 BREASTSTROKE – SEMIFINALS
World Record: 28.56, Alia Atkinson (JAM), 2018
World Junior Record: 28.81, Benedetta Pilato (ITA), 2020
Championship Record: 28.81, Ruta Meilutyte (LTU), 2014
2021 Champion: 29.34, Anastasia Gorbenko (ISR)
TOP 8 QUALIFIERS:
MEN'S 50 BREASTSTROKE – SEMIFINALS
World Record: 24.95, Emri Sakci (TUR), 2021
World Junior Record: 25.85, Simone Cerasuolo (ITA), 2021
Championship Record: 25.41, Cameron van der Burgh (RSA), 2018
2021 Champion: 25.53, Nic Fink (USA)
TOP 8 QUALIFIERS:
WOMEN'S 50 FREESTYLE – FREESTYLE – FINALS
World Record: 22.93 – Ranomi Kromowidjojo (NED), 2017
World Junior Record: 23.69 – Anastasiya Shkurdai (BLR), 2020
Championship Record: 23.08 – Sarah Sjostrom (SWE), 2021 checked
2021 Champion: 23.08 – Sarah Sjostrom (SWE)
RESULTS:
MEN'S 50 FREESTYLE – FINALS
RESULTS:
SwimSwam: 2022 Short Course World Champs: Day 5 Finals Live Recap